The Ultimate Tool - KMS Tools Gift Card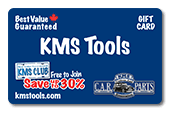 KMS Tools Digital Gift Card
Shop Now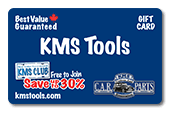 All KMS Tools Gift Cards
Check Balance Online
Gift Card Frequently Asked Questions
KMS Tools Gift Cards are sold in store and online. They can be used as a payment towards purchases in any of our locations or online. KMS Tools Gift Cards are the ultimate tool gift for anyone in the trades industry, the serious hobbyist, for those that like to tinker on the car, around the home, workshop, garage or for students just entering trade school!
How to purchase Gift Cards online
Digital Gift Cards can be purchased online and emailed to any recipient. They are available in any denomination between $20 and $500.
Physical Gift Cards can only be purchased at a KMS Tools store.
How to use your Gift Card as a payment for an online order
You can use a Gift Card towards an online purchase. Enter the Gift Card numbers under the Apply Gift Card section on the Payment page.
How to check the balance of Gift Cards
Check Your Gift Card Balance Here.
You can check the balance of your Gift Card online at the above link. Both digital Gift Cards as well as physical Gift Cards are able to have their current balance checked.
For any additional questions about KMS Tools Gift Cards on kmstools.com you can email [email protected].